Chiropractic Care
As chiropractors, Dr. Scottie and Dr. Alex at Cleveland Heights Chiropractic Clinic take a look at the entire body to correct any mechanical malfunctions. With specific adjustments, your health, particularly your neurological function, can be improved with safe, effective treatments.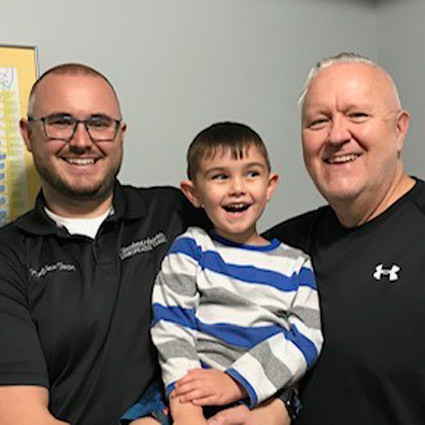 Help for Pain and Injury
Healing comes from God, not chiropractic. We hope to be used by God, putting our knowledge into your care so that your body can recover. Our natural approach doesn't use medications and is suitable for a variety of different health concerns:
Auto accident injury
Headaches
Low back pain
Neck pain
Personal injury
Pregnancy
Expecting moms are often referred to our office by area midwives and OB-GYNs. Being pregnant presents a unique set of problems, and we want to help you be comfortable through each trimester.
Our Techniques
There are many chiropractic techniques out there. Over our years in practice, we've honed our skills and use what we've found to be the most efficient way to help you. To restore your health, we use techniques such as Diversified and Sacro Occipital Technique® (SOT®).
Schedule your appointment with our Lakeland office today and experience the benefits of chiropractic! We're in-network providers for many insurance companies.
Notice of Non Discrimination
Notice Informing Individuals About Nondiscrimination and Accessibility Requires and Nondiscrimination Statement
Discrimination is Against the Law
Cleveland Heights Chiropractic Clinic complies with applicable Federal civil rights laws and does not discriminate on the basis of race, color, national origin, age, disability, or sex. Cleveland Heights Chiropractic Clinic does not exclude people or treat them differently because of race, color, national origin, disability, or sex.
Cleveland Heights Chiropractic Clinic:
Provides free aides and services to people with disabilities to communicate effectively with us, such as:
Qualified sign language interpreters
Written information in other forms (large print, audio accessible electronic formats, other formats)
If you need these services, contact Maryclaire Ison, Office Manager.
If you believe that Cleveland Heights Chiropractic Clinic has failed to provide these services or discriminated in another way on the basis of race, color, national origin, age disability, or sex, you can file a grievance with
Maryclaire Ison
3740 Cleveland Heights Blvd.
Lakeland, FL 33813
P: 863-646-5707
F: 863-647-5044
mcison@mychcc.com
You can file a grievance in person or by mail, fax, or email. If you need help filing a grievance, Maryclaire Ison is available to help you. You can also file a civil rights comp[lain with the U.S. Department of Health and Human Services, Office of Civil Rights, electronically through the Office for Civil Rights Complaint Portal, available at:
https://ocrportal.hhs.hov/ocr/portal/lobby.jsf
or by mail or phone:
U.S. Department of Health and Human Services
200 Independence Avenue, SW
Washington, D.C., 20201
1-800-368-1019, 1-800-537-7697 (TDD)
Complaint forms are available at:
https://www.hhs.gov/ocr/office/file/index.html
ATTENTION: If you speak Spanish, language assistance services free of charge are available to you.
Call 1-863-646-5707

Chiropractic Care | (863) 646-5707