Pregnancy Chiropractic at
Cleveland Heights Chiropractic Clinic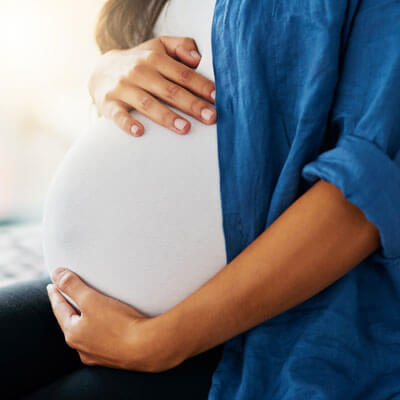 Many women are surprised to learn that they can receive chiropractic care during pregnancy. Chiropractic care is effective and safe for pregnant women, and can help you have a more comfortable pregnancy, labor and delivery. At Cleveland Heights Chiropractic Clinic, we have been helping moms-to-be feel and function better through safe chiropractic care for over 40 years.
Why Is Chiropractic Care Important?
As your baby grows and develops, the additional weight you're carrying places significant pressure on the pelvis and can pull it out of alignment, putting stress on the abdomen, pelvis and lower back.
Our adjustments help restore pelvic and spinal alignment to relieve that pressure, so you can move better and with more comfort. Research also shows that women who receive regular chiropractic care during pregnancy can experience shortened labor times, with less pain and fewer medical interventions.
Our Compassionate Approach
Our practice is a family practice, and we know from experience how exciting this time can be for new parents (and parents who have done this before!), and we are grateful for the opportunity to help you enjoy your pregnancy even more. We listen to you and tailor care to meet your specific needs.
Our tables have a break-away midsection so that you can still lie face down comfortably as your belly grows. Our adjustments are safe and gentle for both you and Baby. We typically combine manual adjustments with some Activator® adjustments to maximize your comfort.
Pregnancy Massage
Many of our patients benefit from pregnancy massage, which is a deep-tissue, therapeutic massage that is safe and effective in helping relieve pain and pressure. It helps release the muscles and take pressure off the lower back joints and pelvis.
Postnatal Chiropractic
We recommend coming for an adjustment after you've had your six-week medical checkup. After you're medically cleared, it's a good idea to see us and make sure everything is back to proper alignment, so you can enjoy time with your new family member.
Frequently Asked Questions
How safe is an adjustment during pregnancy?
Chiropractic care is a huge blessing to help expectant mothers be more comfortable during their pregnancies. We treat many of our moms-to-be regularly throughout their entire pregnancy.
How often do I need to come in?
After an evaluation, the initial frequency of visits will be determined and altered as needed.
Yes, many local OB-GYNs refer their patients for drug-free chiropractic care. Some visit us as patients!
Do I need a referral from my physician?
No.
Schedule Today
Experience the happy and healthy pregnancy you deserve. Contact us today to start care.
CONTACT US »

Pregnancy Chiropractic Lakeland FL | (863) 646-5707