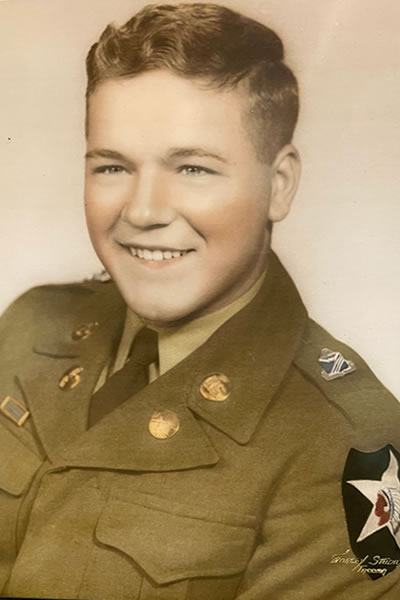 With Memorial Day approaching we want to take this time to honor all of the current members of the military as well as veterans. Your sacrifice to our nation is deeply appreciated. We'd like to share a story of a very special veteran who served in the Korean War. This account, by Roger Davis, Post Judge Advocate, for the Elliott County VFW, was published on an undetermined date:
During the Korean War a company-sized group of American soldiers encountered a comparable number of North Korean soldiers in a narrow valley between wooded hills near the intermediate border between North and South Korea. The opposing groups were vulnerably exposed in the open valley, so quickly sought the forested cover of opposite hills.
As small arms fire and mortar shells rained down upon both hillsides, the Americans called for help from a nearby armored group. Soon the desperately needed M-26 Pershing tanks came rumbling down the dirt road and began firing 90mm fragmentation shells, but into the wrong hillside with devastating effects on the American troops.
Attempts from the U.S. troops to communicate with the tanks failed, and the firing continued. An American soldier bolted from cover and began running across the open field toward the tank column. The North Korean troops saw the racing figure, and bullets ripped through ground foliage all around him as he ran. The soldier leaped upon the back of one of the tanks and began hammering on its turret with his Colt .45 sidearm.
A bullet tore through the soldier's thigh and knocked him to the ground. He thought he would be crushed by the next tank in the column as it bore down upon him lying there. Instead, the tank's huge treads straddled him, and he was pulled up through a bottom trap door of the tank. As he communicated his desperate message, it was quickly relayed by radio to the other tanks and their turrets swiveled 180 degrees, beginning to bombard the North Korean troops for a favorable outcome to the battle.
The soldier was Glen Ison, Dr. Scottie Ison's father and Dr. Alex's grandfather. Glen was from Elliott County, Kentucky. "I am deeply proud of my father's heroism in the face of danger, his selfless actions and his unwavering commitment to his fellow soldiers and the United States," said Dr. Scottie.
Serving Veterans Through the Community Care Network

Our practice is privileged to care for many area veterans through the Community Care Network (CCN). The CCN is Veteran Affairs' direct link with community providers to make sure that veterans can get the timely, high-quality care they need.
If you're a veteran or current member of the military, we want to extend our heartfelt thanks to you. We look forward to providing you with high-quality chiropractic care to help you enjoy optimal health.