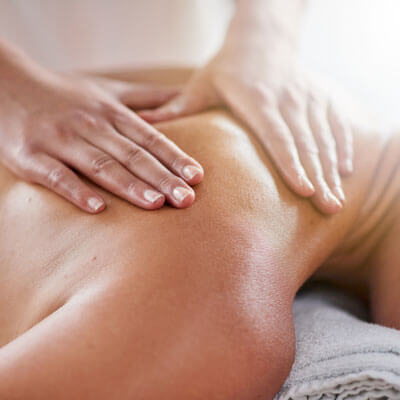 If this is your first time getting massage therapy, you may feel uncertain about what to expect. We seek to make your first session and every one thereafter pleasant and seamless. When you walk through the door for your first massage, you will go to the front desk and complete some paperwork. This will include your medical history, and document the pain and symptoms you're experiencing. Here's what you can then expect:
Meeting Your Therapist
Prior to your treatment the doctor will discuss your specific care needs with our massage therapist, Melissa. After you've completed your paperwork Melissa will introduce herself and review your complaints with you. "I always want to ensure everybody has a comfortable experience, as well as knowing what their pains and aches are," said Melissa.
She'll focus on what's hurting you in the moment, while still addressing the probable cause of your condition. For example, if you're feeling shoulder pain, you may not realize it could be referred pain from other areas of your body such as your back or your hips. She always recommends addressing the full body, although for particular pain levels, Melissa can focus on what hurts the most.
Respecting Your Privacy
When it's time for the massage, Melissa will leave the room so you can get undressed. You can get undressed to your comfort level. Gowns are supplied upon request. You will be appropriately draped at all times during the massage.
The Massage
Melissa will ask you how the pressure is and how you feel as she massages, because she wants to make the experience comfortable for you. Some people prefer a lighter touch, while others prefer more pressure. Remember: you're always in control, and Melissa will customize your session to meet your needs.
How Will I Feel Afterwards?
If you have a deep tissue or trigger point massage, you will experience more soreness than you would with a therapeutic massage. Regardless of which type of massage you had, it's critical to drink enough fluids afterwards.